Company name
:
Minami Cattle Feedlot Ltd.
Representative
:
Yuji Inoue, President and CEO
Tel
:
+81-967-44-0136
Fax
:
+81-967-44-0721
Address
:
4733 Manganji, Minamioguni-machi, Aso-gun, Kumamoto 869-2402, Japan
Access
:
An approximate 20-min drive from the JR Miyaji Station (JR Hohi Line)
An approximate 80-min drive from the Aso Kumamoto Airport
An approximate 90-min drive from the Kumamoto Interchange
【Detailed map】
Lot area
110 ha
Number of cattle
6000 head
Capital
62 million yen
Foundation
June 1980
Number of employees
24
Business activities
Fattening and selling cattle; producing and selling compost
Main customers
Miyazaki Beef Center Co., Hamada Co., Kochi Beef Co.
Main suppliers
Kyushu Futaba Shiryo, Hokkaido Minami Farm, Hokuren, Suematsu Chikusan
Affiliated companies
Inoue Bokujo, Kyushu Futaba Shiryo, Hokkaido Minami Farm
Facilities and equipment
32 cattle sheds, 2 cattle sheds with small stalls, 8 nursing cattle sheds,
1 feed-blending storage, 2 feed storages, 1 sawdust storage,
2 active-composting sheds, 1 compost-curing shed,
3 compost-maturing sheds, 1 compost-packaging building,
2 compost-drying plants,
2 brewer's grain-storing silos (stockpile: about 1600 t),
1 oil feeder with an underground tank, 2 outdoor tanks (20 kL/tank),
1 office with a company house, 1 dormitory for employees
Vehicles and heavy machines
4 feeding cars, 6 wheel loaders, 4 forklifts, five 10-t dump trucks, three 4-t dump trucks, eight 4-t trucks, one 4-t animal transporter
※ About our affiliated company, Hokkaido Minami Farm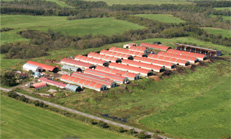 A subsidiary of Minami Cattle Feed-lot Ltd.
It nurses and raises calves of Japanese Wagyu and crossbreeds in Betsukai Town in the Nemuro District of Hokkaido.
The company currently raises approximately 1600 head.
At the age of approximately 8 months, the calves are transported to the Minami Cattle Feed-lot for further development.
※ Company History
Founded in June 1980
Minami Cattle Feedlot Ltd.
(first president: Takashige Inoue) after acquiring an agricultural producers'
cooperative corporation, Minami nojo.
Number of cattle sheds: 8, Head of cattle: 1145
May 1984
Number of cattle sheds: 16, Head of cattle: 3013
May 1987
Builds two compost sheds with the subsidy,
"Collective Business for Improving Livestock Farming Environment."
Number of cattle sheds: 24, Head of cattle: 4698
December 1991
Opens the Hokkaido Minami Farm in Mihara, Betsukai Town, Hokkaido.
March 1992
Yuji Inoue, the third son of Takashige Inoue, becomes president.
Number of cattle sheds: 28, Head of cattle (Aso): 6524
Head of cattle (Hokkaido): 916
April 1994
Builds active-composting sheds.
December 1994
Incorporates the Hokkaido Minami Farm.
Head of cattle (Minami Cattle Feed-lot): 7906
Head of cattle (Hokkaido Minami Farm): 2323
May 1995
Installs a compost agitator with the subsidy,
"General Measures for activating Local Stockbreeding Business."
Builds a compost-curing shed and a compost-packaging building.
Number of cattle sheds: 31, Head of cattle: 7767
May 1998
Number of cattle sheds: 31, Head of cattle: 9425
May 2003
Number of cattle sheds: 32, Head of cattle: 8593
August 2005
Builds a compost-drying facility and compost-drying plant No. 1.
First to recycle compost into litter First to recycle compost into litter
August 2006
Builds compost-drying plant No. 2,
which is equipped with a system that utilizes waste heat.
Number of cattle sheds: 32, Head of cattle: 8470